At Flexo Wash we want to be the leading company in cleaning solutions for the print industry worldwide. It is no secret that we have huge ambitions. However, first and foremost we appreciate hard work and it is the hard work has taken our small family company to incredible heights over the last 30 years
It is even more incredible that the same year we celebrate our 30-year anniversary is the year we also sell over machine number 5000 – you cannot write this. Behind those numbers are many different numbers who all contribute to the story in their own way.

How did it all begin?
The story of how everything began is simple. Henning Kongstad saw an opportunity in the market that no one had seen before. He ventured out, where no one had ever been before and created the very first Flexo Wash machine. It became the start if this incredible journey.
But that is a story for another time – in this blog post we want to celebrate the people on the floor, because without them there where no machines for all our loyal customers.
At Flexo Wash works many incredible people who everyday follow the strong vision from the Kongstad family and help create the most innovative products. No one is expendable and their worth and effort is valued. We work like a machine to build machines.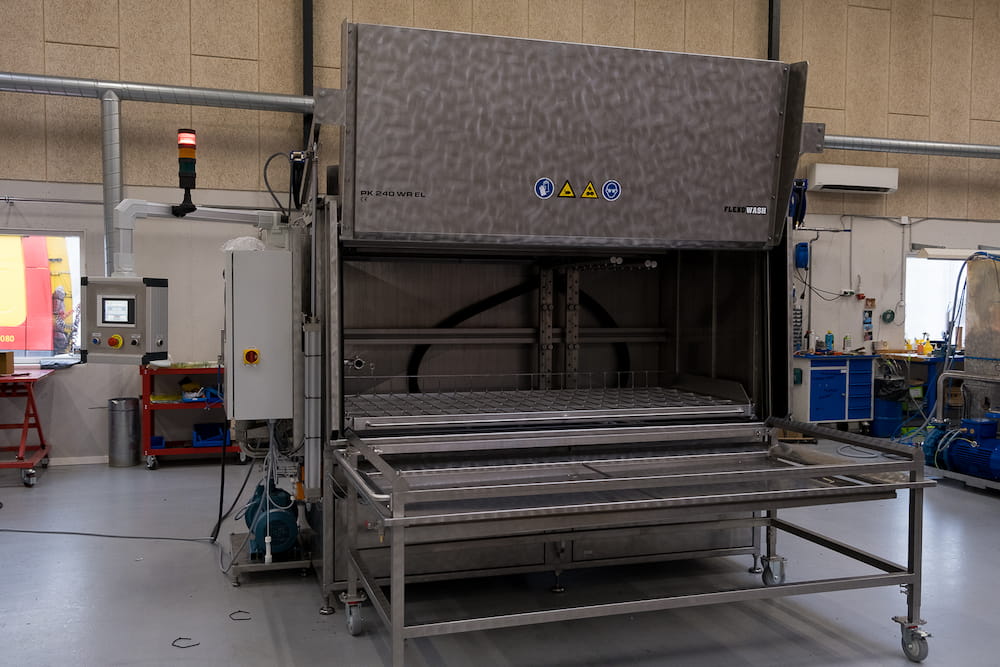 Good craftmanship wins every time
In our production buildings the employees that builds all the machines strive for perfection and good craftmanship every single time – no exception made. They do this because just like the rest of our organization they all know they are part of something bigger and if they do their part well – we all win. That is how every single Flexo Wash employee thinks.
They are the unsung heroes that you do not meet every day or might not even know worked at Flexo Wash – but we could not do without them. Our machines are not manufactured in a foreign country on an assembly line. They are handcrafted right here in Skødstrup, a small town outside of Aarhus in Denmark, with approximately 10.000 people.
Anders Kongstad said this about the milestone: "It is incredible that we have come so far. I do not think anyone in my family could have imagined this. We always had the vision of creating a worldwide company and consistent hard work during the last 30 years has made that dream come true. I just want to say thank you to all our fantastic employees and loyal customers – we couldn't have done this without them"