ANILOX CLEANING WITH LIQUID:
Daily deep cleaning of your aniloxes
The fully automatic anilox cleaners are designed to deep clean/restore anilox rolls or sleeves of all sizes. In other words, it is also a very good tool for the daily washing and maintenance of aniloxes.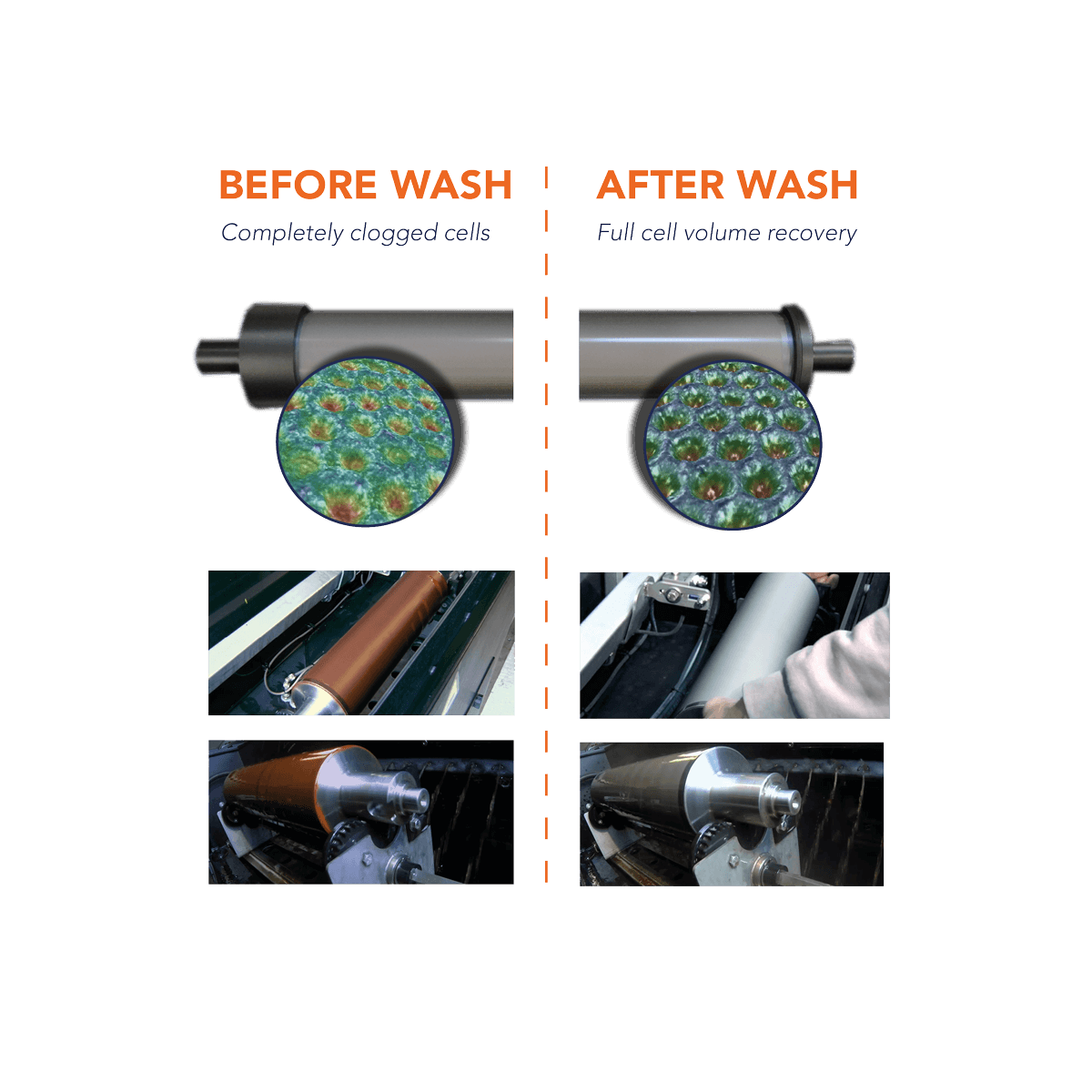 Quick & gentle cleaning process
This Flexo Wash system is based on liquid and high-pressure water. Therefore, the system is effective even for high-line aniloxes. The quick and gentle cleaning process leaves the aniloxes totally clean and ready for immediate use after just 10-20 minutes cleaning without causing any wear or tear to the anilox.
This makes it possible to keep your aniloxes totally clean at all times ensuring a high and consistent print quality and a long lifetime of the aniloxes.
Download product catalogues for: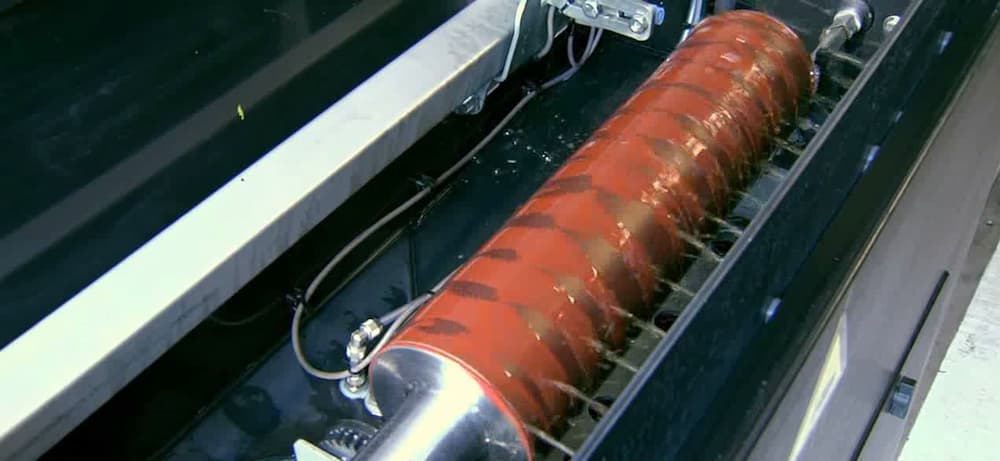 OUR SOLUTIONS:
Anilox cleaners for all needs
We supply anilox cleaning equipment in all sizes for both the label and larger flexographic industry. The Flexo Wash Anilox Cleaners comes in many different models which each can be modified by combining the standard unit with one or more of the various options.
We have been leading experts in anilox cleaning for 30 years and our large portfolio of units and options reflects the flexibility needed to meet all needs of the label and flexographic industries.
Replace the connection to fresh water supply and drainage for all anilox cleaning units with our Recirculation system to reduce your water consumption.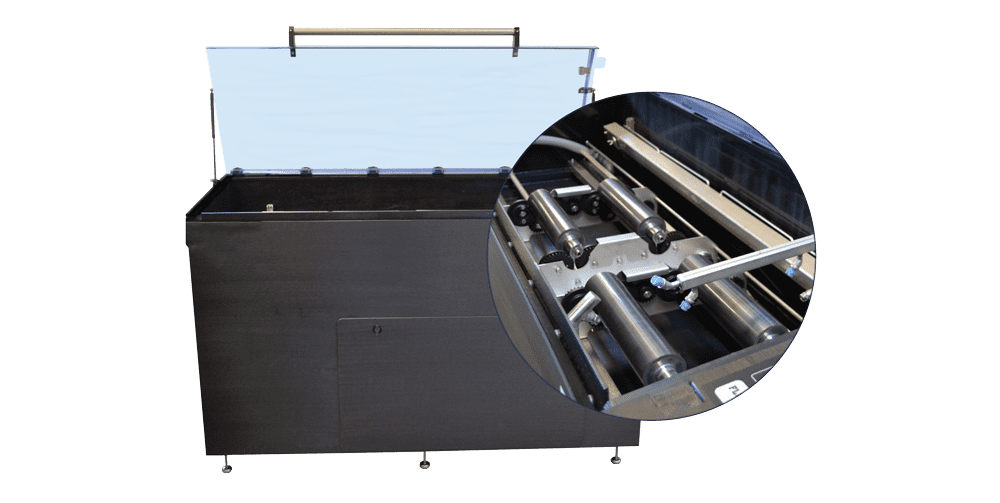 NARROW WEB:
FW Handy-series
Our low-cost FW Handy models have been developed to serve a broad part of the label industry.
The FW Handy-product line are fully automatic units designed to deep clean/restore anilox rolls and print sleeves of all sizes and providing you with a very good and cost-efficient tool for the daily washing and maintenance of aniloxes etc.
Depending on your specific aniloxes you will find a FW Handy Anilox Cleaner that will fit your needs.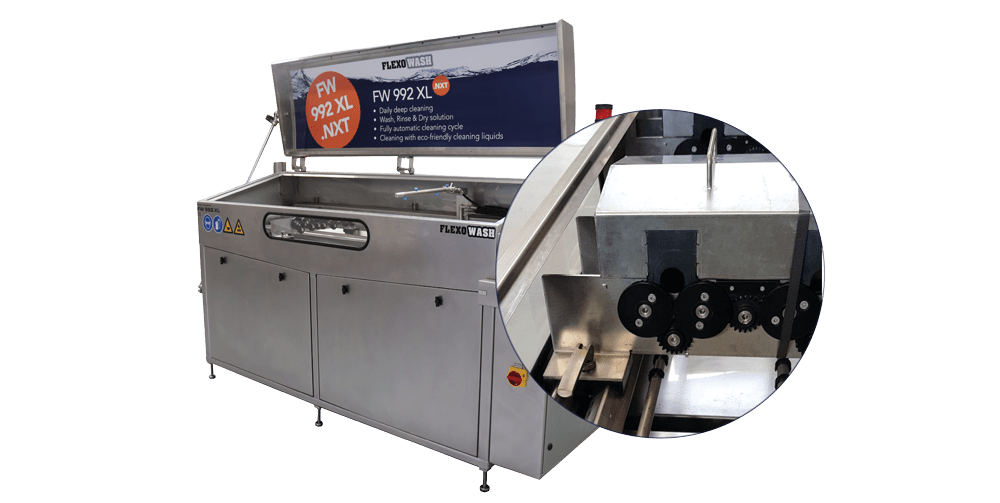 NARROW/WIDE WEB:
.NXT Generation
With the .NXT units we presents a new generation of anilox cleaning machines. All are produced with the .NXT features which means easier handling, improved technology & focus on sustainable solutions.
Enhanced qualities of the .NXT units:
Better & faster drainage
Automatic liquid filling
Easy access pull-out tank
Liquid level indicator
Improved lid design
Easy adjustment of traction stations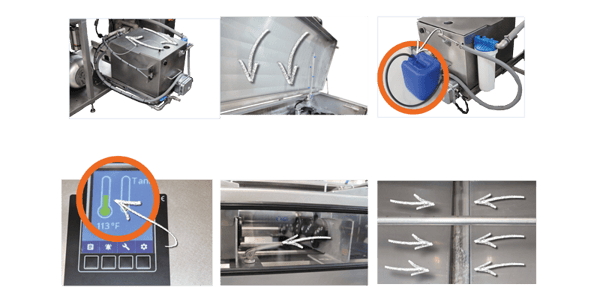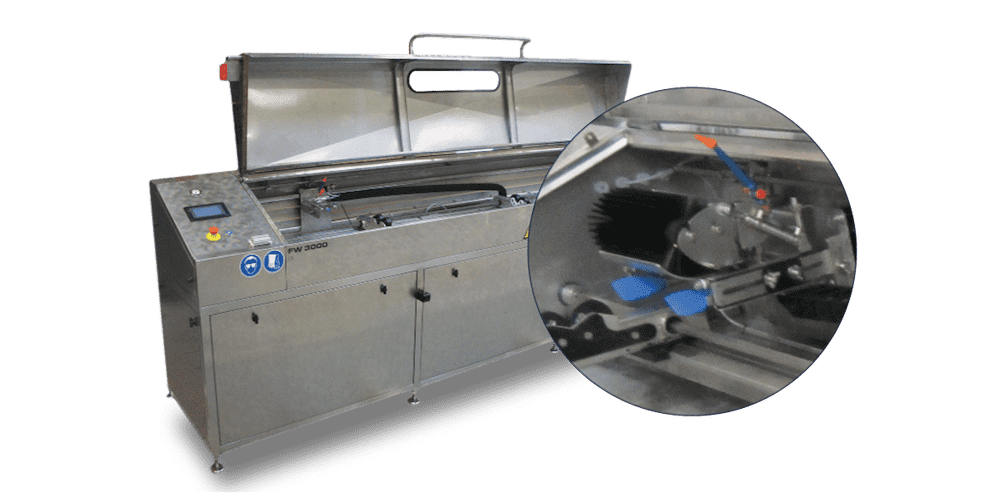 WIDE WEB:
FW PLC-SERIES
All larger FW Anilox Cleaners are equipped with a PLC control, which enables easy change of the various program settings e.g. washing time, rotation speed and temperature. It is also possible to enter an alarm log.
The PLC Anilox Cleaners are designed to clean larger and heavier rolls and sleeves. They can all be adapted to fit your specific needs by for example adding an extra traction system to clean more aniloxes per wash, an adaptor to clean sleeves safely or reinforcing the machine to clean even heavier rolls.
How does it work?
The FW Anilox Cleaners work with environmentally friendly cleaning liquid, which is specially made for deep cleaning of aniloxes used with all types of ink.
The water from the high-pressure rinse is automatically led directly to the drain, to a tank for re-use or to one of our water treatment units.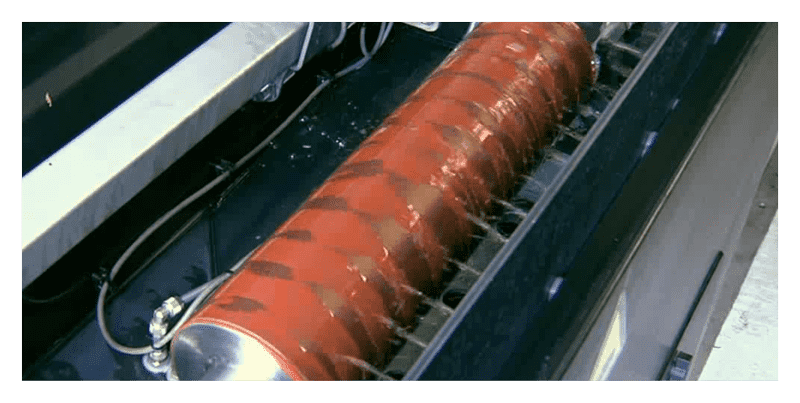 WASHING
The anilox rotates while heated liquid is sprayed onto the surface and enables easy removal of the ink from the anilox cells.
Average washing time is 5-20 minutes.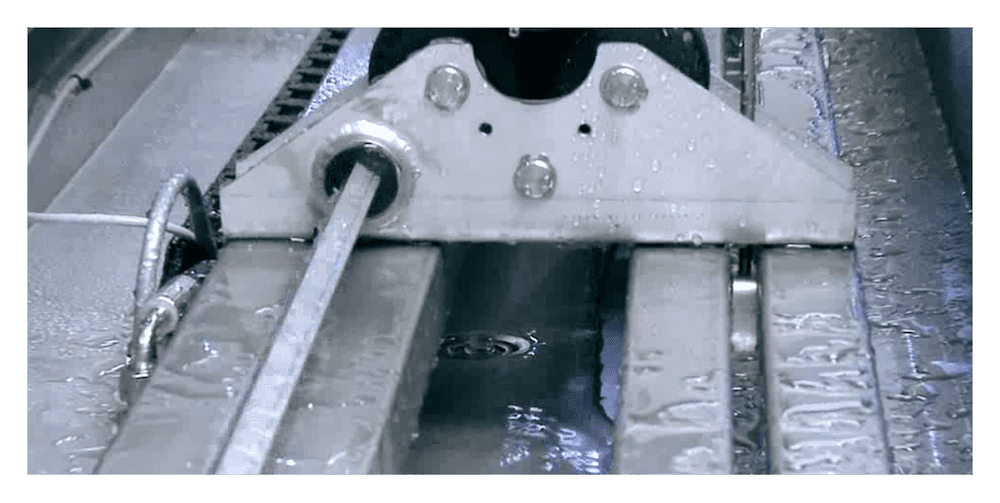 DRAINING
After the washing cycle the liquid is drained back to the wash tank.
Drain time is 2-3 minutes.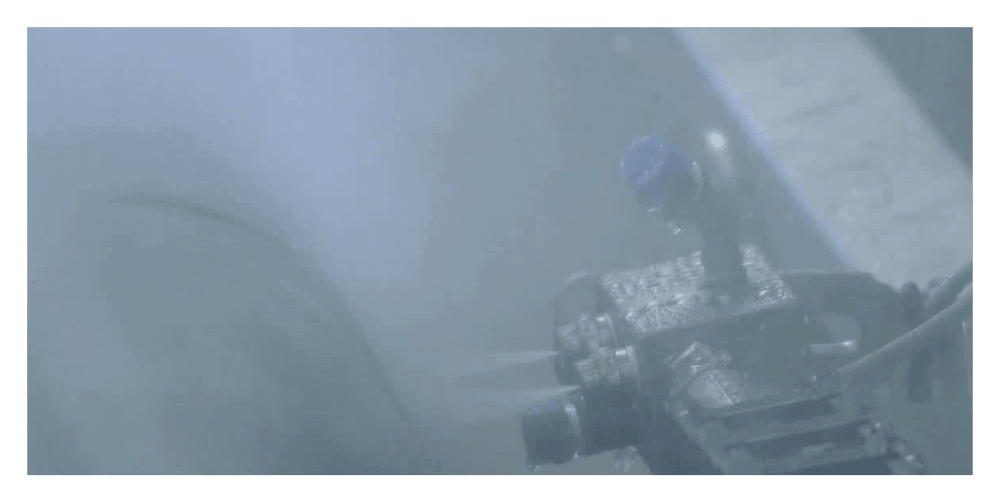 RINSING
High pressure adjustable water nozzles complete the cleaning process and removes any remaining ink particles and cleaning liquid.
Rinse cycle is approx. 2-3 minutes.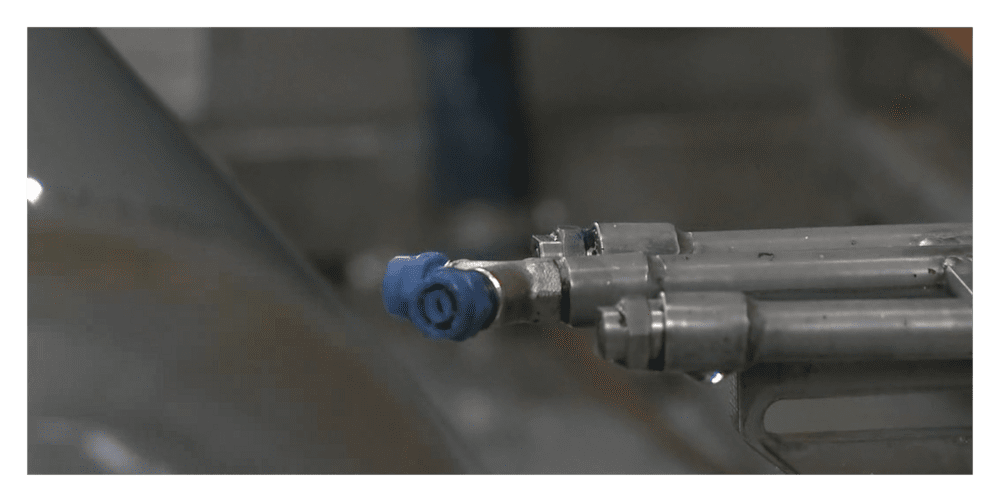 DRYING
High pressure air drying completes the cleaning process leaving the anilox ready for immediate use or storage.
Duration is 1-3 minutes, depending on roll length.
CLEANING LIQUIDS:
Complete your solution
Flexo Wash are experts in ensuring you the best possible cleaning result with a combination of advanced cleaning equipment and cleaning liquids.
Because of the anilox cleaner the condition of our aniloxes is always consistent. It is important to always have clean aniloxes to keep the same printing quality. And that we have!