Flexo Wash Press Service
On this page, we have gathered relevant information for the press as well as files for free download and press releases. All can be used for press publications.
Press contact: mt@flexowash.com | +45 8749 1081
Facts about Flexo Wash
About Flexo Wash:
Flexo Wash is a leading cleaning solutions company based in Denmark. Flexo Wash specialize in cleaning equipment and eco-friendly cleaning liquids for the flexographic and converting industries. The mission of Flexo Wash is to successfully develop innovative and high-quality cleaning equipment to satisfy needs of printers worldwide and thus creating consistent print quality and high productivity with focus on safe working conditions and low impact on the environment.
Flexo Wash products:
Flexo Wash offers innovative and high-quality cleaning solutions to satisfy individual needs of printers worldwide. Through our solutions we ensure you consistent print quality and high productivity with focus on safe working conditions and sustainability. With 30 years of developing innovative cleaning technology, we cover all types of cleaning machines for both solvent and non-solvent cleaning liquids – and latest also laser cleaning units as a waste free alternative.
Flexo Wash produce machines and liquids for:
Anilox cleaning (liquid and laser)

Parts washing

Plate washing

Sleeve washing

Screen washing

Cylinder washing
Including:
Filtration units

Sedimentation tanks

Recirculation units
Flexo Wash Clean Solutions liquids for all ink types.
Flexo Wash history:
Back in 1989, a Danish print company wanted better and more efficient cleaning of print equipment. With nothing on the market, company owner Henning Kongstad started developing a washing machine. The prototype for the automated cleaning machine was built from an old dishwasher. Flexo Wash have come a long way since then and the automated cleaning machines have become a huge success in the print industry. Today, Flexo Wash makes a wide range of machines for automated cleaning and sell them to satisfied customers all around the world.
Flexo Wash was founded in 1991 by Henning Kongstad and is now run and partly owned by his sons Anders Kongstad (CEO) and Lars Kongstad (CFO).
2022-03 Flexo Wash LaserX
Flexo Wash Announces New LaserX Anilox Cleaner Series
Flexo Wash is pleased to announce its LaserX Series, the latest innovation in laser anilox cleaning.
The LaserX Series promises all the same safe and high-quality cleaning, but twice as fast as the immensely popular regular Laser Anilox Cleaners from Flexo Wash. This is an optimal choice for printers wanting to invest in reduced cleaning time and new technology from a trusted company.
The Flexo Wash Laser Anilox Cleaners are all safe, effective, and have a low impact on the environment; while at the same time proven to efficiently and thoroughly clean your anilox rolls.
Flexo Wash LaserX Anilox Cleaners guarantee:
• High degree of safety
• Cleaning in half the time
• Even more advanced laser technology.
As a special feature, North American customers can choose the color for the exterior of their new LaserX Anilox Cleaner. Flexo Wash now offers six standard exterior color options plus the ability to customize the color.
All the Flexo Wash Laser Anilox Cleaners are available in the LaserX option. Flexo Wash offers four LaserX Anilox Cleaning models for cleaning lengths up to 3730 mm with the largest model.
For even faster laser anilox cleaning – go LaserX2!
For customers with an even greater need for speed without compromising safety and cleaning quality, Flexo Wash is launching LaserX2, which is four times faster than the regular Anilox Laser Cleaner and twice as fast as the LaserX.
The two new models include the following machines:
FW 850 Laser/LaserX
FW 2000 Laser/LaserX/LaserX2
FW 3000 Laser/LaserX/LaserX2
FW 4000 Laser/LaserX/LaserX2.
2021-08 Flexo Wash 30th anniversary
30 years of hard work and resilience
In 2021, it has been 30 years since Henning Kongstad founded Flexo Wash, that produces cleaning machines for the print industry all over the world. The family-owned business now employs 50 cleaning experts from the headquarter in Denmark.

When we tell the story of Flexo Wash most times it starts in 1989 with the invention of the first cleaning machine from a dishwasher, but to understand the complete story we need to go back even further - to 1977.
Henning Kongstad started a label printing business in 1977 and bought the first printing machine in 1978. A business that was the cause for inventing Flexo Wash almost 10 years later. During that time the equipment was handwashed, which was fine with the types of inks used at the time. However, in the late eighties the business changed to water-based inks due to environmental concerns.
Water-based inks wasn't easy to clean: "When the change came to water-based inks. My guys could spend all their time in between jobs cleaning the parts because it was so difficult to clean water-based inks. And I had a guy working for me who thought this could be done smarter, so he builds the first cleaning machine prototype from a regular dishwasher. Of course, it was not perfect, but we knew we had something here. "- Henning Kongstad says.
The journey had begun and the second prototype for a cleaning machine was built at the local blacksmith, and it could handle the inks and the intense workload that comes with the repeated cleaning that is necessary at a label printer business.
"During the first year I think we sold 10-15 cleaning machines, and I sold them all to colleagues I knew in business who also wanted a cleaning machine to ease their cleaning. If I hadn't had the network, I had it wouldn't have been possible to do." Henning Kongstad says.
Both the label printing business and Henning Kongstad's network was key to Flexo Wash taking off and becoming a viable business. But what draws most attention is the resilience and hard work that was put into bringing the machines out into the world.
53 countries and 200 travel days
Bringing Flexo Wash around the world was hard work and success did not come easy in a time where they didn't have a lot of the tools we use today. In the early nineties Henning and his partners had to take the machine to the customers all around the world to demonstrate how it could benefit them.
"We had a good thing going in Denmark and rather quickly I accessed other markets like United Kingdom and France to get Flexo Wash moving on the tracks – it went well.
Then my brother joined to take care of Scandinavia and later he learned German to get Flexo Wash into the German market as well. "
You think that because Flexo Wash was so fast to move to markets outside of Denmark that they deliberately chose an English name, but that wasn't the case. The name just happened for no reason at all and they stuck with it – it wasn't even the first name of the company. It was Water Wash, but it was too generic thought Henning Kongstad.
Henning Kongstad continues: "Quite early on I wanted to get a hold on the American market with our cleaning machine, but we just couldn't get anyone to buy one. The market wasn't ready for change – it was different from Europe to my surprise. However, when I travelled America and visited printing businesses, I realized they needed something different – anilox cleaning. It just goes to show that driving 40-50 thousand kilometers, travelling to 53 countries 200 days a year was a big part of evolving Flexo Wash as a business and our machines"
What the market needs, we make
The trip to USA became the starting point for developing yet another machine that the market had a need for and that has become the essence of Flexo Wash. That it is a company that looks at the market and finds the places where they can create a product that solves a problem.
"Developing that anilox-cleaner to the concept and stage it is at today of course with more modern solutions took 3-4 years. And all this was only possible because I had the label printing business, which could pay me a salary and generate money for Flexo Wash so everything we earned we could put back into the company for development. If I hadn't had that possibility the company would not be having its 30-year anniversary." Says Henning Kongstad.
That sense of innovation and need to continue to develop and to stay ahead of the game is a core value of Flexo Wash. It still exists in the company and there is always something that can be done smarter. That is also why so many customers get custom built solutions because by doing them you discover new possibilities you may never have seen yourself.
The next generation lifts the company
Family-owned companies are rare and successful family-owned business are even rarer. It is not without its risk to let you brother, daughter, or son take over your company. Henning Kongstad knew that, but he made the decision to let his son Lars Kongstad take over the business and the success just continued.
In the early 2000 Lars Kongstad became managing director of Flexo Wash while Henning Kongstad joined the board as president. Henning explains: "Although I have a lot of companies and projects that I have started over the years. Running a company is not what interests me. What interest me is getting out in the world. Meet people, their cultures, talk to them and learn. Maybe I see something where I can make a difference, and then I make a move. "
In the late nineties when the machines slowly became increasingly bigger the company really took off and to lead that change was Lars Kongstad who came on board during that time. After almost 10 more years Lars wanted to bring in his younger brother, Anders Kongstad, as technical director. Once again, the family knew the risk, but everything went well again and when Lars Kongstad wanted to step down as director, Anders Kongstad took over.
What Anders Kongstad brought to the company was more focus on technical engineering due to his background. Henning Kongstad had envisioned a tunnel washing concept for cylinders that would create easy handling for the heavy equipment, but the project hadn't taken off yet. Anders took the lead on the idea and over five years together with the rest of the Flexo Wash team he created the MCC, Multi Cylinder Cleaner, which today is a patented machine that is by far the largest and most impressive concept at Flexo Wash.
Work through the crisis
Henning Kongstad has shown an incredible work ethic through the years and his sons follow the same principle. When the financial crisis hit the world in 2008 there was not a single order for Flexo Wash for six months. However, the company cultivated their leads and network. And after six months the orders started to fly in again and ended as one of the best years ever.
The same goes for the pandemic crisis in 2020. Henning Kongstad says: "When the lock down happened. We didn't panic. We already had plans in the work to create a different approach. We just set turbo to those plans. I believe that the world has changed, and as always Flexo Wash has changed with it. "
2021-06 Flexo Wash Narrow Web EXPO online
Flexo Wash Denmark Reports FW Narrow Web EXPO an Online Success in the Print Industry
Flexo Wash reported a successful first ever live virtual Flexo Wash Narrow Web EXPO that took place from June 21 to June 30, 2021. Originally scheduled for five days, it was increased to eight days due to high demand. There were individual online one-on-one sessions, live machine demos and an online dialogue with Flexo Wash cleaning experts.
Success was definitely measured by the numbers:
8 days (June 21-30, 2021)

Over 50 one-on-one live sessions

More than 100 machine demos
HISTORY:
With ongoing restrictions on travel and larger events, Flexo Wash wanted to find new ways to showcase their cleaning solutions for the print industry. The solution became a virtual live exhibition for the narrow web industry.
Weeks before the start date of June 21, Flexo Wash went live with dedicated web pages and booking systems. There was an incredible desire to get the "exhibition feeling" back after a whole year without it and still no exhibitions in sight. At the initial planning meeting, Flexo Wash staff declared they would have been happy with five attendees – in total 50 customers signed up.
Preparations were made to make an immersive studio feeling where both agents and customers could go through a unit and see it perform live. Flexo Wash experts were there ready to answer any questions the customer might have.
According to Anders Kongstad, Director at Flexo Wash: "At Flexo Wash we always want to deliver the best solution to our customers. During the past year, when it has not been possible to visit exhibitions, we have begun to think of new innovative solutions not just for our automatic cleaning machines as we always do, but in other aspects of the company as well."
The other side of the Zoom call
Agent support and promotion caused the event to be extended three additional days.
"A good innovative effort to keep customers well-informed on the range of equipment with latest development and solutions offered by Flexo Wash. A good opportunity for agents as well as both existing and prospective customers to interact with Flexo Wash executives on the same platform. Easy accessibility to customers at all levels to raise their queries and get issues if any sorted out on the spot." Said Vikyat Hebbar from Scanvik in India and he continues: "In view of current restrictions on travel both internally / overseas such an Expo is the next best viable option for all. Look forward to such an Expo on solutions offered to wide web Flexo/Gravure converting industry."
A virtual live EXPO like this is unique in this industry and it is a wonder no one has done something similar already, but it takes a crisis to be innovative.
"Flexo Wash has arranged a great virtual event for Narrow Web customers worldwide. As an agent, it is also helping us to demonstrate the working of Flexo Wash Cleaning Machines with Q/A(s) in a live session. We are getting positive feedback from the customers as well. Kudos to the Flexo Wash team!" said Ahsan Javed from Intercom trade services in Pakistan.
The future of Flexo Wash EXPO
Flexo Wash wants to expand on the concept and improve the virtual demo experience, not just during a worldwide pandemic, but also afterwards with a studio concept so agents and clients always the have possibility to get a high-class demonstration without flying halfway across the world.
Area Sales Manager at Flexo Wash, Mette Laursen comments: "It has been some really exciting days at our virtual EXPO for the Narrow Web Industry. We have had customers participating from all continents around the world. Customers as far away from us as New Zealand and Bolivia have participated. We are proud of what we have achieved, and we very much look forward to our Wide Web EXPO in September/October. Thank you to all agents and customers for making this a big success".
The next step is to make a FW EXPO for the wide web industry – both Flexo and Gravure – where it will be possible to view and get demos of some of our bigger automated cleaning solutions that people do not get to see very often.
More info on the next EXPO will be available shortly on www.flexowash.com.
About Flexo Wash:
Flexo Wash is a leading cleaning solutions company based in Denmark. We specialize in cleaning equipment and eco-friendly cleaning liquids for the flexographic and converting industries. The mission of Flexo Wash is to successfully develop innovative and high-quality cleaning equipment to satisfy needs of printers worldwide and thus creating consistent print quality and high productivity with focus on safe working conditions and low impact on the environment.
Video from Flexo Wash Narrow Web EXPO: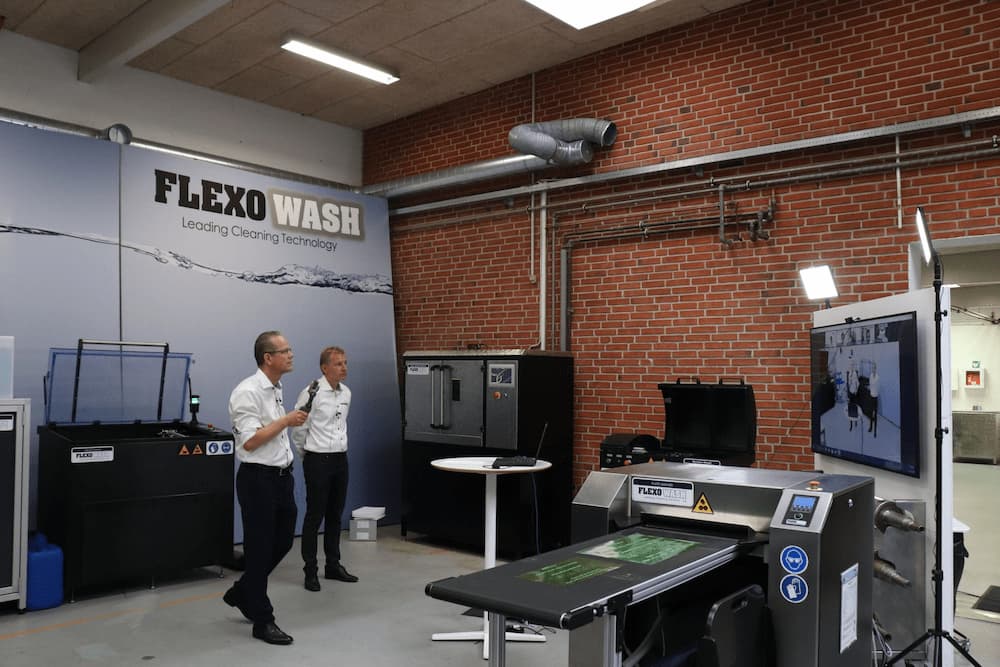 Let us guide you!
Click the buttons for contact regarding service or liquids - else please fill in the form below and let us know how we can help you.